Are Kim and Kanye getting ready to move in together?
Either this is one heck of a coincidence or Kim and Kanye – aka Kimye – are getting ready to step up their relationship and move in together, as we've discovered the pair have quietly put their homes on the market.
While the timing of West's decision to list his Los Angeles bachelor pad is certainly, er, interesting, a source said that Kim is trading up from her place in Beverly Hills because, despite all the amenities, what she really needs is more security.
What we can tell you with the utmost certainly, at least, is that neither is moving because their previous residences were eyesores.
Two years after buying the Tuscan-style mansion for $3.4 million, per Realtor.com, Kardashian has pocket-listed her five-bedroom, four-and-a-half-bathroom home for close to $5 million.
The 4,000-square-foot abode features a media room, a pool, an outdoor living and dining room, dark hardwood floors and a two-story entry. It sits on a quiet-for-most-people cul de sac and has its own gate, more privacy appears to be the No. 1 amenity Kardashian is looking for these days.
We hear she wants her next place to be in a gated community, like Hidden Hills, where Kris and Bruce Jenner live.
As for West, he bought his similarly sized home (4,214 square feet) in 2003 for a reported $1.75 million. The jet-setting rapper put it on the market for almost $4 million two years ago, but the property never sold.
In addition to a ceiling mural in the dining room and French walnut floors throughout, the modern house boasts sweeping city views and a built-in aquarium in the master bathroom.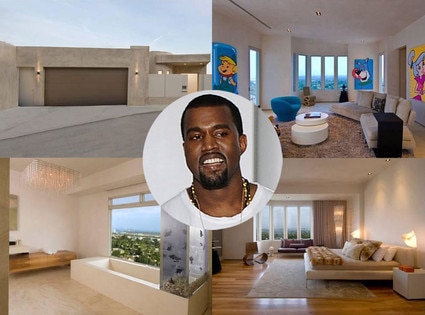 MLS, Pascal Le Segretain/Getty Images
Related Posts: