Jennifer Aniston and Justin Theroux have been spotted together for the first time since December.
The engaged couple have not been publicly seen together since their Mexican getaway on December 30, were spotted leaving Fred's At Barneys New York in Manhattan Monday.

The 45-year-old actress and her 42-year-old fiancé were appropriately layered and bundled for the Big Apple's chilly -50 degree weather, however Jen made sure to leave off the gloves and flash her 9 carat engagement ring.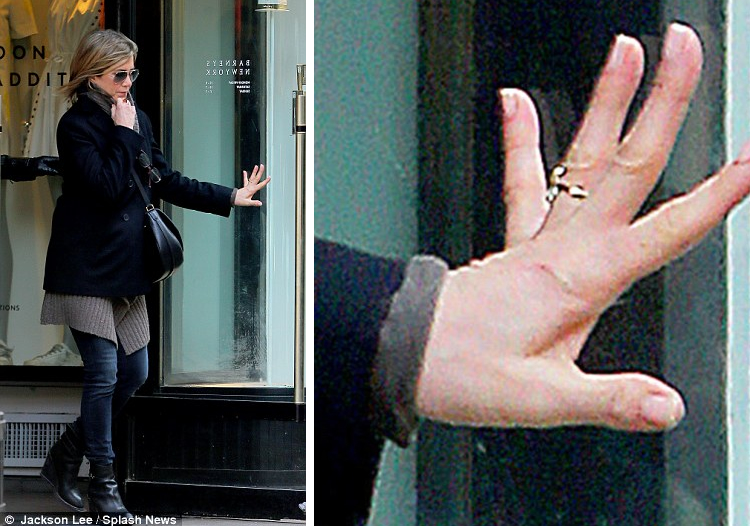 The pair were reportedly joined by Jason Bateman, who Jennifer co-starred with in The Switch and Horrible Bosses.
Breakup rumours have surrounded the couple after Jennifer skipped Philip Seymour Hoffman's Manhattan funeral and Justin skipped her 45th birthday bash in LA.
However away from the cameras, Jen and Justin reportedly attended two pre-Oscar parties in Los Angeles, for CAA and the Motion Picture & Television Fund.

Despite his own relationship troubles, it has been reported that Orlando Bloom is to credit for the pair enjoying time together after a spell apart.
A source told Heat magazine: "'During a boys' night out, which fell on Jen's birthday, Orlando kept telling Justin that he should be with Jen, rather than his friends.

"He told Justin that he would bitterly regret it if he didn't fight for Jen, saying that he'd been lonely and miserable since his split from Miranda. Orlando made Justin realise just how important Jen is to him."