Agony for Andy Murray as leg knock could force him out after one match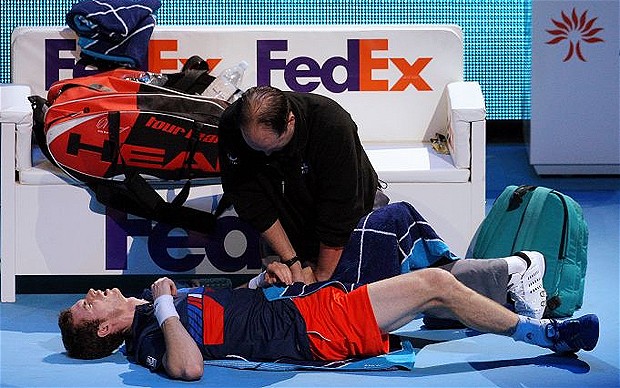 Andy Murray last night threatened to quit the Barclays ATP World Tour Finals in London.
The world No.3 was widely tipped to win the season-ending event but, dogged by a groin injury, he slumped to a shock 6-4 7-5 defeat against David Ferrer.
Murray struggled throughout the two hours he was on court at the O2 Arena.
And later the Scot revealed he picked up the injury during practice last week and admitted if the tournament had not been such a prestigious one on home soil he would not have taken part at all.
Murray said: "I'll decide on Tuesday whether or not I keep playing.
"Sometimes you've got to do the right thing. I didn't know exactly how it was going to feel on the court today. I haven't been able to do much training this week.
"I played but I didn't feel particularly great. I'll see if I feel any better tomorrow."
Recalling the moment he felt the muscle pull while stretching for a ball in practice, Murray said: "I've never really had many strains, it's more been bony, jointy things, especially playing on hard courts. It was the first time I'd really felt anything go."
For a player struggling with his movement Ferrer, the most dogged of Spanish baseliners, was a nightmare opponent.
Murray had won all their previous meetings on hard courts world No.5 has had an but the impressive season and 44 unforced errors from his rival was simply far too many.
The Dunblane ace added: "He's just very, very solid. He gives you very few points.
"Normally when I've played him I've served pretty well and you can get some free points on your serve if you serve well.
"But he returned well today, hardly made any mistakes on the return, so he was always putting pressure on my service game.
"I had chances to break him but on my serve I didn't do a great job. I was a break up in both sets so it's disappointing. I felt flat, especially in the second set."
The result was particularly disappointing for Murray given his form during the autumn which saw him win three titles in successive weeks in Asia.
The round-robin format means he still has a chance of qualifying for the semi-finals.
But to do that he likely to have beat world No.N o v a Djokovic and in-form Czech Tomas Berdych, while his failure to win a set against Ferrer means even that may not be enough.
Asked about his feelings were he forced to pull out, Murray added: "It would be gutting, really gutting."
Ferrer said: "I'm very happy. I London, in his home city. I played well and in important moments I took my chance.
"I made fewer mdi la mistakes than I did in Shanghai last month."
Djokovic and Berdych went the distance last night before Djokovic survived a cliffhanging final-set tiebreak to win 3-6 7-6(3).