The Scot says the game's big names could be forced into going on strike if changes aren't made to their calendar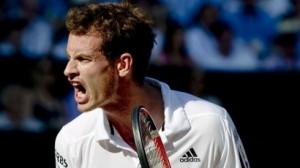 Tennis' top names could go on strike as they try to enforce change to a hectic calendar, according to Andy Murray.
The British number one has raised concerns over the number of games the sport demands throughout the season, with other leading figures such as Rafael Nadal having also spoken out.
Players will meet in China during next month's Shanghai Masters to air their complaints after a gruelling spell, where Murray himself went straight from losing in the US Open semi-final last Saturday to playing for Great Britain in the Davis Cup six days later.
Professionals are unhappy with the number of events currently comprising the tennis calendar, offering little time to recuperate. Strike action appears to be a last resort, but Murray refused to rule it out, telling the BBC: "It's a possibility.
"I know from speaking to some players they're not afraid of doing that. Let's hope it doesn't come to that but I'm sure the players will consider it."
When asked whether the matter would be discussed during the talks in Shanghai in October, the Scot replied: "Yes, I think so. If we come up with a list of things we want changed – and everyone is in agreement but they don't happen – then we need to have some say in what goes on in our sport. At the moment we don't.
"We'll sit down, talk about it with the Association of Tennis Professionals (ATP) and International Tennis Federation (ITF), and see if they will come to a compromise and, if not, we'll go from there.
"We just want things to change, really small things. Two or three weeks during the year, a few less tournaments each year, which I don't think is unreasonable.
"It takes so long just to change things. Since I've come on the tour we've tried for a shorter calendar.
"To get another change implemented may take five or six years at the rate things are going and by then all of us will be done [retired]. We want it to happen sooner rather than later.
"I've spoken this week to a couple of guys who work at the ITF and I think they understand players now are quite serious about doing something.
"We're competing in the biggest events against the best players, it's pretty gruelling. There is extra stress on the body…we work hard and don't get much of a break."
The ATP insists it will strive to work with players to alleviate their concerns and says modifications have already been made to ease their workload.
"The players should and do have a major say in how the game is run, which is one of the key reasons the ATP Tour was formed as an equal partnership between players and tournaments," the ATP said in a statement.
"As you know, the calendar has long been a topic of conversation and just last year we announced that we would be lengthening our off-season by two weeks beginning in 2012, meaning players will have seven weeks in between ATP World Tour seasons.
"The health and wellbeing of the players is paramount, and the ATP has implemented a number of changes to address player health concerns in recent years – including reducing draw sizes of ATP World Tour Masters 1,000 events, giving byes to the top eight seeds, and eliminating five-set finals.
"We remain committed to working with the players and other governing bodies to continue to address these issues."