You may not know their name but you'll undoubtable have heard their massive summer hit —Lick Ya Down. Cover Drive – Amanda, Barry,  Jamar  and  T-Ray are the latest export from Barbados.
Having  already  performed with Rihanna and toured with Dappy, this Barbadian quartet bring fun and sunshine everywhere they go—even if it's just in their  personality.
DYRT have spoken with the band a few times now and we most definitely tip them to be our 1 to Watch in 2012.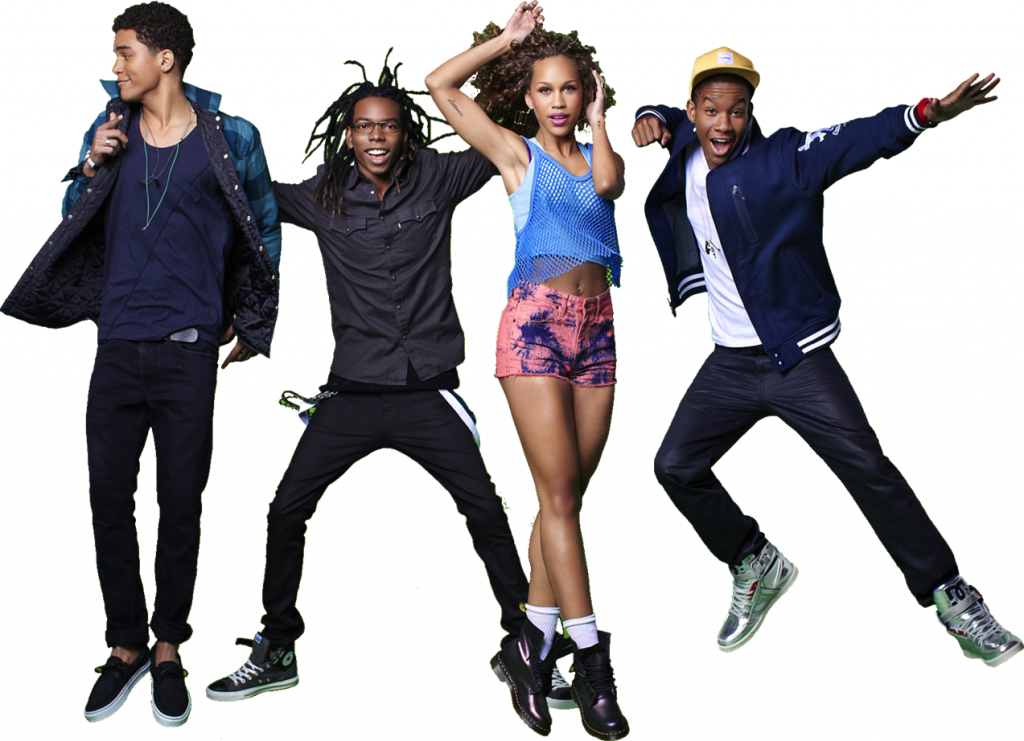 Last time we spoke you mentioned you'd like to collaborate with N-Dubz/Dappy – how did it feel when you found out you were his support act?
How have the shows been so far?  Have you had a favourite venue so far? What can the Glasgow audience expect tonight?  You've performed in Glasgow a few times now – do you enjoy playing here?
Cover Drive: When we found out we were supporting Dappy we were beyond excited!  He had said when we all were at a radio show Scotland a couple months ago, that he really wanted us to be a part of the tour and now here we are! He is a man of his word! Respect, Dappy!
The tour has been great so far.  It is really a great opportunity for us to share our music with a whole new fan base.  Dappy's fans LOVE him!  It is pretty amazing.
We have enjoyed each venue for different reasons.   Liverpool was pretty special! Great crowd and a great dressing room-our own! Lol!
Glasgow can expect for Cover Drive to bring the sunshine!  Our set is all about feeling like you're on a vacation in Barbados.
We love Glasgow!  Glasgow has always shown us a lot of love and support.  We really appreciate that.
Do you have any backstage gossip/funny stories from the tour so far?
Cover Drive: Funny backstage stories…ummm… not really…Just a lot of fun backstage with the entire team.  There is such a good vibe on the tour.
How have you found the whole tour experience?  Does it make you want to tour yourself?  Have you learnt anything about living on the road that you didn't before?
Cover Drive: OOOH!  We love being on the road!  Yes! We do want to tour again soon!!!  We wish this could go on forever.  Feel like great when we are on stage entertaining fans daily.
Life on the road is tough.  If we could, we would love to have a portable microwave, so that we could eat food from Marks and Spencer after our shows!  Hate having to eat fast food all of the time.    Amanda has learnt that if you are the only girl on a tour, and you're a support act, don't expect to have your own dressing room! Lol!
Tell us about your new single Twilight? It's about friends becoming lovers..have any of you experienced this?
Cover Drive: Ha! Ha!  I am sure we all have at one time or another.  It really is a special feeling!
Where do you get your inspiration from for your songs?
Amanda is the principal writer for the band.  Amanda: I get inspiration from all over!  Magazines, books, movies, and real life…I am always watching, observing, listening and reading.
Tell us about your album?  What can fans expect?  When can we expect to hear it?
Cover Drive: Our album is going to take you on a trip to Barbados for less than 15 pounds!  It is drenched in sunshine and feel-good vibes!  Carib pop music.  If all goes according to plan, our album should be ourtby second quarter 2012.
How did you find the process of making an album? How did you decide which songs make it and which don't?
Cover Drive: Making the album was amazing!  Working with creative people is so inspiring.  We were soaking up every bit of knowledge and creativity that the more seasoned musicians, producers and songwriters would share.
Selecting songs for the album was tough.  We wrote and recorded over 70 songs for this project. Still, we are very happy with the songs that are a part of the album.
Amanda:  You recently revealed that you wrote a song with Scotland's newest star, Emeli Sande – how did that come about? How was that experience..was it an easy process?  Now that she's an artist in her own right, does it feel strange that you worked together before either of you 'made it' as such?  What were your impressions of her at the time?
Cover Drive: Emeli was amazing.  So talented and kind!  Working with her was a great experience.  She was one of the first writers we wrote with when we started working on our album.  We were all blown away by her talent!  We all knew she has star potential and it is great to see it all coming together for her.
Is writing for other artists something you'd like to do more of?  Anyone in particular you'd like to write for?
Cover Drive: I love to write and would love to write for other people!  For now, though, I am totally focused on Cover Drive and making sure I write songs that work for the band!
You guys have always done Fedora Sessions and have continued to as you get ready to release your 2nd single…why do you still do this?
Cover Drive: Fedora Sessions got us our record deal.  Fedora Sessions continue to be a way for us to share our talent with our fans.  Fans really love them and they are fun to do, so we intend to continue doing them.  The sessions are about creativity and giving fans more insight into who we are.
Is communicating directly with your fans something that's important to you?  Is it something you hope to continue even when your platinum selling artists?
Cover Drive: Communicating with our fans is so important.  We don't ever want to stop doing this.  We control our social networks. We listen to our fans.  We try to meet with them whenever we can to ask them what they like and dislike.  Just recently we met with a group of fans that told us how much they look forward to our Weekend Lime videos.  It was great getting that feedback!
A lot of people have said the internet is harming the music industry, but would you say it's a good thing?
Cover Drive: The Internet has been great for us.  It has given us a direct line of communication with our fans.  We suppose all of the illegal downloading can really negatively impact the industry.  We try to give some songs away for free so that fans are less inclined to illegally acquire songs off of the net.
YouTube seems to be helping get artists noticed, take yourself and Justin Bieber for instance – would you say it's a useful tool to help artists make a name for themselves?  Is this something you'd recommend to anyone who's looking to follow their dream?
Cover Drive: Use the Internet to promote yourself and your music.  It can be an amazing tool! We did not have to find money to travel to the UK to showcase for record labels; the Internet   facilitated it all.  The Internet has made access to music industry executives accessible to all.  Then if they like you, they can fly you up for the showcase!
Do you think it has replaced the 'original' method of door knocking and sending demo files to record companies?
Cover Drive: Record labels do not ignore the Internet.  The old method probably still does exist but record labels do not ignore the Internet.
When you finish touring, what are your plans for Christmas and New Years. Do you have any New Year's resolutions?
Cover Drive: Going back home to the sunshine!  We are soo excited!!  Sand in our toes! Beach time!! Liming with friends and family! And food and more food!  Oh! And a photo shoot, a studio session and rehearsals!
New Years Resolutions…to work towards our career goals with tunnel vision!  And no more Nandos!!!! We spent a good 3000 pounds in six months eating there! Lol!! Nah! Just joking!  Cover Drive is only able to maintain its sunshine-y feel good vibe in the UK by eating Nandos!
Cover Drive's 2nd single, Twilight is out 22 January 2012