The Golden State Warriors have broken the Chicago Bulls' NBA record for the most wins in a season.
The Warriors recorded their 73rd win of the season at a packed Oracle Arena last night - one more than Michael Jordan's Bulls managed in the 1995-96 season.
It was a great night for Stephen Curry who became the first player to score 400 three-pointers in one campaign.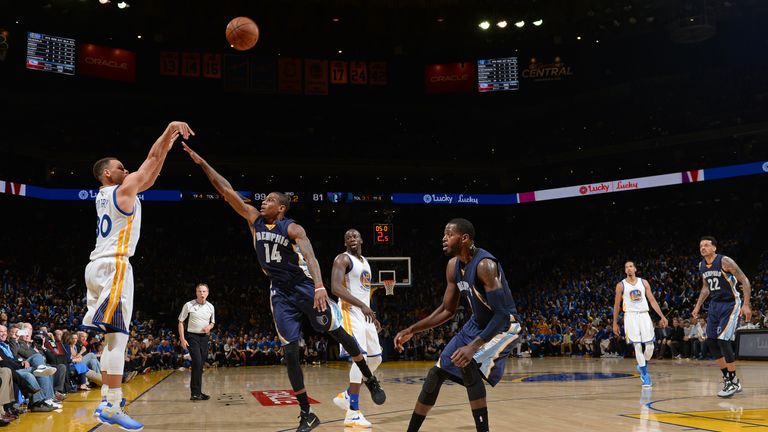 Curry ended with 46 points in a 125-104 victory, taking their record for the season to 73-9.
They now turn their attention to defending their championship in the play-offs.
Jordan, who went on to win the championship in 1996 – one of six NBA titles the franchise won in the 90s – said in a statement: "I want to congratulate the Warriors on their amazing season.
"The game of basketball is always evolving and records are made to be broken. The Warriors have been a lot of fun to watch and I look forward to seeing what they do in the play-offs."
Warriors coach Steve Kerr, who played alongside Jordan in Chicago's 72-win season, said: "It's a great way to finish off what was an amazing regular season.
"I just told our guys I never in a million years would have guessed that that record would ever be broken. I thought it was like DiMaggio's hit streak, really. I was wrong, but I will say the same thing now that I said 20 years ago; I don't think this one will ever be broken.
"Somebody's got to go 74-8. I don't see it, and I hope our fans aren't expecting that next year."
Warriors forward Draymond Green, who grabbed the game ball as '73 Wins' appeared on the scoreboard, said: "We were going to play 82 games, anyway. We might as well try to win. It means that I'm on the best team ever. Not many people can say that – 15 guys can say that."
President Barack Obama sent a tweet that said: "Congrats to the Warriors, a great group of guys on and off the court. If somebody had to break the Bulls' record, I'm glad it's them."